Our premises has two fully equipped dyno cells, with a MAHA LPS 3000, 4wd Dynomometer and additional Maha LPS 13, 2wd Dynomometer with data logging. We offer Full Competition Engine Tuning. Our Services, depending on your engine requirements can vary from a power test to optimising Ignition, Fuelling, Cam Timing etc. to get the best power from your engine. We can supply, install and re-map most aftermarket ECU's for increased power & torque and improved drivability. Some examples; Apexi Power FC Mapping, Apexi AFC/SAFC/VAFC/ Neo set up, Autronic, DTA, EFI, GEMS, Hondata, MoTeC, MBE, Omex and more.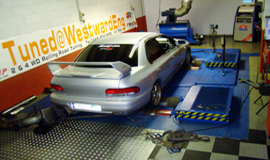 POWER RUNS
Want to see how much power your car is putting out?
• We offer 2wd Dyno run @ € 60.00
• We offer 4wd Dyno run @ € 100.00
Power runs include a print-out of your full power & torque curves. Our technician will give you advice on how your car is performing and if any additional improvements can be made.
We have Club Rolling Road Days on various Saturdays during the year. Each participant brings their car along for a power run - to see who has the most HP & Torque. We supply tea/coffee/soft drinks munchies & additional catering can be organised by prior arrangement. Special sponsor prizes also available.
<< Back to Home Page